Your journey to the Büsumer Perlebucht
Location & journey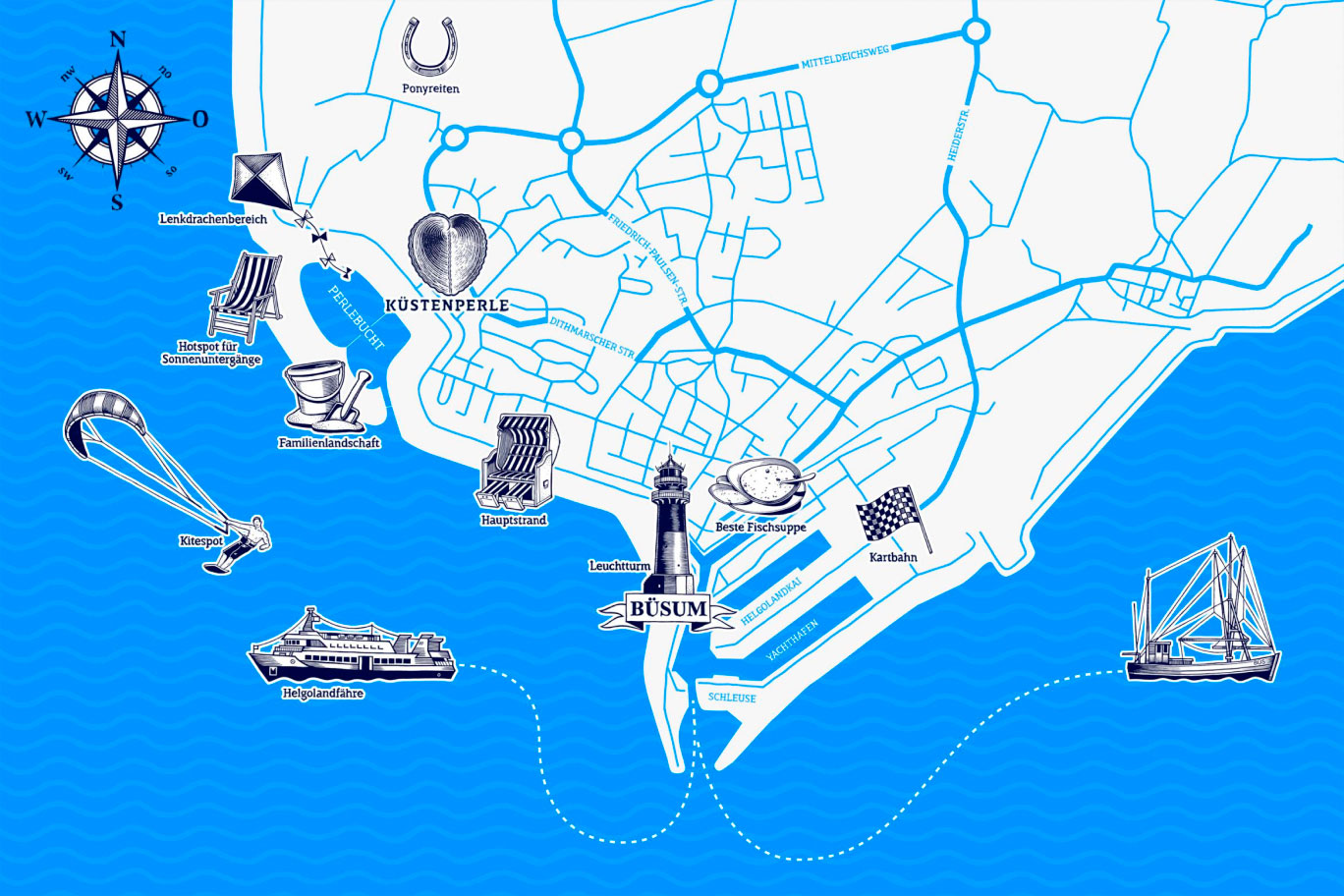 Drive up, come down.
The Küstenperle Strandhotel & Spa is located in the far north of Germany - more precisely on the dyke of the Perlebucht family lagoon in Büsum. Here you'll find fresh sea air, sand, fun and sea for young and old. Set sail and full speed ahead to the Küstenperle.
Park. Secure. Anchor
Coming from the south, take the A23 towards Husum. Leave the A23 at exit 2 Heide-West in the direction of Büsum. Then turn right and follow the B203. At the first roundabout, take the second exit. Leave the next roundabout at the first exit. This is followed by two more roundabouts, which you leave at the second exit. After entering Büsum, you will pass the two campsites on the right and reach the Küstenperle car park.

We charge € 6.00 per night/car for the car park. A prior reservation is not necessary. Our hotel car park has two charging points from the company NewMotion. Feel free to use this public charging network, currently the largest in Europe. You can request your personal charging card via the Shell Recharge App (iOs App-Store, Google Play-Store). If possible, please bring your own charging cable with you, alternatively you can borrow one from the hotel. In this case, you will be charged on site at the hotel.
The journey by train is comfortable and environmentally friendly. From the travel hub of Hamburg there is an hourly service via Heide to Büsum. From Hamburg to Büsum it takes approx. 2 hours. The journey from Heide to Büsum is approx. 30 minutes.
Aircraft up to 5.7 tonnes (equivalent to about 20 seats) can fly to the airfield in Büsum. You can find more information on the website of Heide-Büsum airfield.The airfield is located in Büsum-Oesterdeichstrich, directly on the B203 between Heide and Büsum. The nearest international airport is in Hamburg. From Hamburg airport to the Küstenperle Strandhotel & Spa in Büsum it takes approx. 1hr and 15 minutes by car.